We look forward to welcoming you to the Wallace Collection and our staff are on hand to help with any additional needs you may have.
We also have a range of facilities and accessible resources to help you explore the collection in person, or online.
If you can't find the information you need on this page, or would like to talk to us, please email us on enquiries@wallacecollection.org or call +44 (0)207 563 9500.
We welcome your feedback on what we could do better.
Visiting the Wallace Collection
Planning Your Visit
Entry to the main collection is free and unticketed. You are welcome to come and go during opening hours. There is no need to queue for entry.
You need to purchase a ticket for our temporary exhibitions. We offer concessions for disabled visitors and free tickets for carers.
There are sometimes short queues for our café, restaurant and shop, so you may prefer to reserve a table in advance or shop online.
Our cloakroom is open most days. You can read our cloakroom policy here. Only small bags are permitted in the museum. If you bring a rucksack to the museum, you may be required to wear it on your front to help protect our collection.
More information is available on our Visit page.
Museum floorplans are available here.
Assistance dogs
Appropriately trained assistance dogs are welcome throughout the Wallace Collection. Please show museum staff your ID book from Assistance Dogs International (ADI), Assistance Dogs UK (ADUK) or the International Guide Dog Federation (IGDF) on arrival, and if possible ensure that your dog is wearing an appropriate tabard or harness.
If your assistance dog is not registered with ADI, ADUK or IGDF, please get in touch ahead of your visit. We will ask you to provide documentary evidence confirming that your dog has been trained as an assistance dog by a recognised trainer.
If you are planning to visit the Wallace Collection with an assistance animal other than an assistance dog, please get in touch to discuss your visit in advance.
Much of our collection is on open display so for safety reasons, we are only able to welcome trained assistance animals. No other animals are permitted in the museum.
Quiet times and spaces
The Wallace Collection galleries are generally quiet spaces. Weekday mornings (10.00-11.00) and afternoons (16.00-17.00) are usually the quietest. The museum is busiest on Saturdays, between 12.00-15.00.
We regularly have group tours and school groups onsite, who may be noisy. However, as there are many rooms in the museum, you can usually find a quiet and peaceful space nearby.
The busiest areas of the museum are the restaurant, the exhibition galleries, the front hall, the shop, and the Oval Drawing Room.
The Armouries are usually the quietest part of the museum.
Arriving at the Museum
See our Getting Here page for full details about public transport links to the museum, including step-free access.
Entering the Museum
The entrance to the museum is step-free. There is a sloped driveway up to the front entrance. The double doors at the sides of the vestibule are automatic.
An Information Desk is located on the right-hand side of our entrance vestibule. Our Gallery Team members at the desk will happily help with any enquiries.
In the Museum
Accessibility Equipment and Resources
The following items are available to borrow. All items will be thoroughly cleaned between each user.
Wheelchairs – available from the cloakroom. If you would like to reserve one in advance, please call ahead on 02075639500, and we will arrange for it to be in reception when you arrive.
Magnifying glasses – available from the Welcome Desk
Torch – available from the Welcome Desk
A large-print guide is available for our temporary exhibitions. Please ask at the Exhibition Desk.
You can enjoy our free audioguide app on your own smartphone or tablet. The app is called Bloomberg Connects. It contains audio-described content as well as videos with captions and BSL. Scroll down to the 'Listen and Watch' section on the app to find out more. It is aimed at adults but suitable for ages 16+.
Seating
Portable folding gallery seats are available from the Cloakroom and the Landing. You can also ask any member of Gallery Team staff for assistance and they will be able to provide you with a seat.
There are a small number of cushioned benches in the museum with backrests: in the Hall, on the Landing, and in the Great Gallery.
The Museum Environment
The museum is a historic building which has been renovated and adapted over the centuries.
We have signage on the door of each room, and orientation maps outside the lift on each floor, and by the toilets. There is also a map available on our audioguide app. Each room is staffed by a friendly Gallery Team Member, who can also give you directions.
Our floors are firm and level. Some areas are carpeted.
Stairs to all areas have handrails on one or both sides.
Most of the museum is well-lit with both natural and electric light. Some rooms, such as the Arms and Armour Galleries, are darker. Most of the museum is kept at a cool temperature, even on a hot day.
All public areas in the museum are accessible by wheelchair. Doors in the museum are either automatic, or propped open during visiting hours.
Using the Lift
There is a lift to all floors, providing step-free access.
The internal lift dimensions are as follows:
123.5cm wide
104.5cm deep (front to back)
219cm height
The lift door dimensions are as follows:
The lift can accommodate a maximum load of 6 people, or 800kg.
Open Display
Much of our collection is open display, which means that many objects are not in glass cases or behind ropes or screens.
Touching can cause unseen damage, so we ask that you do not touch any of the objects on display. Please take extra care when moving around.
We hope you enjoy being able to see our collection close-up.
Please Ask For Assistance
Should you need any assistance at any point during your visit, please ask a member of staff.
A member of the Gallery Team is stationed in every gallery, and you can also ask for assistance at the Information Desk in the entrance.
Toilets
Public toilets are on the lower ground floor, off Founders' Court. Our gender-neutral, individual cubicles each contain a toilet, sink, soap, hand-dryer, mirror and a bin.
Our accessible toilet, with a panic button and audio-visual alarm, is located at the end of the toilets corridor.
There is also a baby change cubicle and a water fountain.
The nearest Changing Places toilet is in Paddington Station (25 minute walk).
Food and Drink
Click here to find out about our Restaurant and Café, and to book.
Please be aware that the Restaurant and Café are both in the same space of the museum – a terrace with a glass ceiling. It can be busy and noisy at times.
Chairs and tables can be moved to accommodate wheelchairs. Chairs have backs and arms.
Please do not eat your own food in the museum or bring in hot drinks – this is for the safety of the collection. There are six public benches outside the front entrance where you can eat your own food.
There are also several public parks nearby, including Paddington Gardens (6 min walk), Regent's Park (15 min walk), and Hyde Park (16 min walk).
Accessible Events at the Museum and Online
Find out more about BSL talks and tours, captioned talks, and audio-described events on our What's On page, or via our dedicated Access Audiences page.
Our events are usually adaptable to your needs, and we're always happy to help. If you have additional requirements, get in touch so we can discuss suitability and make adaptations - please email learning@wallacecollection.org.
Subscribe to our newsletters to receive news about events and activities for blind and partially sighted people, D/deaf people, and for families.
For schools and educational groups, please see our Teachers and Schools pages to find out more about our SEND programmes, and our workshops for hospital schools. We can adapt our primary and secondary schools sessions to meet the needs of your class.
Introduction to the Wallace Collection in BSL
You might like to watch our BSL introduction to the museum, with captions, below. John Wilson introduces you to some key areas of the collection in this short film: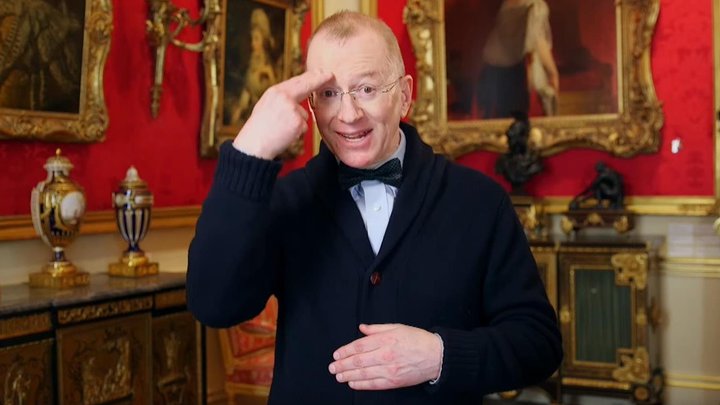 Website Accessibility Statement
You can read our Website Accessibility Statement here.
Work in Progress
We are constantly working to improve access to the Wallace Collection. Current projects include development of a Sensory Map of the museum, new SEND resources, improved signage in our toilets, and sensory backpacks.
If you have ideas, queries or feedback, please get in touch – we'd love to hear from you. You can email us on enquiries@wallacecollection.org, or call +44 (0)207 563 9500.